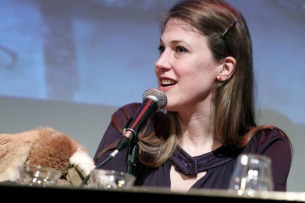 ABOUT
Before I went to the art academy, I worked as a district nurse.
There I already had an interest in skin. When taking care of a wound I found it wonderful to see how such a wound heals and leaves a scar behind as silent witness. By seeing a wound, I could look through the skin. But looking through the medical lens, I could not really see the skin. I felt that there was more to read on the skin. My profession herein did not offer me enough.
I went to the art academy. There I could look at the skin with an artistic view and I discovered a very different kind perspective on skin. The Textile Department of the Gerrit Rietveld Academy, where I studied (2007-2011), gave me good direction. I could approach the skin as a textile. It had a surface, structure, wearability, decay, moldability, portability, tactility, context ...
And then I discovered why the skin is so important to me; it gives me an entrance to get a grip on to our existence in this, for me, very complex world. Because of this discovery, I knew for sure: I will examine the skin as extensively as possible. My fascination with the skin fully deployed. That is why I founded my Taxidermic Laboratory. I have created a place where I research the skin from an artistic perspective.
This is my life's work!